Pleated & Duette Blinds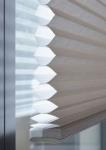 Amazing Clean provides a full blind-cleaning service for delicate duette or pleated blinds. Having your silhouette and pleated blinds ultrasonically cleaned, serviced and repaired professionally will leave them clean, fresh and sanitised.
Amazing Clean's servicing for silhouette and pleated blinds include:
Full re-cording service to standard and top-up, bottom-down
Resizing of silhouettes (conditions apply)
Supply and fit new blinds
New brackets supplied and installed
Amazing Clean also offers a Luminette blinds professional cleaning service.