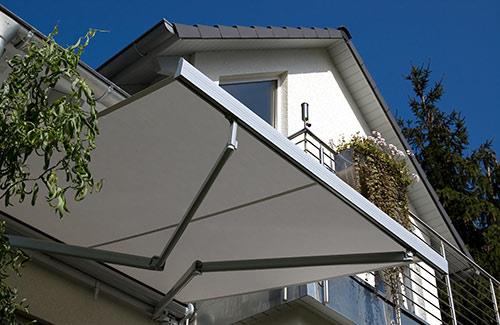 Awning Repairs & Awning Cleaning
Need your metal or fabric, manual or automatic motorised awnings or fixed awnings, cleaned or repaired? Or have garden shade umbrellas, or garden sails and pool sails in need of repairs and a thorough professional clean? Well, you've come to the right professional cleaners. Amazing Clean does it all!
If you have an outdoor awning on your house that is dirty or moldy, Amazing's awning cleaners can deep clean the fabric and spruce up the frame to remove the contaminents and bring the awning back up to good as new condition.
Similarly, if you have an outdoor awning that is no longer working properly there is no need to go to the expense of replacing it. Getting the awning repaired will, in many cases, have it looking and operating as new once more.
Common Outdoor Awning Wear & Tear
There are many reasons why awning repairs may be required.
A common one being that the awning fabric is damaged or totally worn out from being at the mercy of weather conditions 24/7 for years on end. Or, perhaps the stitches holding the fabric together have come undone or have loosened themselves in certain areas. Or, maybe the opening and closing mechanism (be it a manual operator such as a crank, cord, winder, or pulley, or an electric operator, such as a push button or remote control operator) has become rusted, faulty or damaged.
Whatever the awning problem may be, whether the awning frame, or the awning fabric needs repairs , restitching, just a thorough clean, or perhaps complete replacement, Amazing Clean's professional awning repairers and cleaners can help.
Awning repair is almost always cheaper than awning replacement and the Amazing cleaning company's specialised outdoor awning, shades and pool sails repair service is the perfect solution!
External Awning Replacement, Repairs & Cleaning Services Australia-Wide
Amazing Clean offers an awning skin replacement and awning fabric re-stitching service for tired and old awning fabrics, giving the exterior of your home or business a fresh new look.

The awnings repair and awnings cleaning services will leave your residential or commercial awnings:
Rejuvenated and lubricated
Free from dirt and stains left from leaves and bird droppings
Repaired from sun and weather damage
Amazing Clean is a certified member of the Blind Manufacturers' Association of Australia (BMAA), which requires compliance with Australian Standards, Child Safety Regulations, warranties and consumer law as well as carrying appropriate insurance and abiding by a code of ethics.
BMAA the premier trade association for manufacturers and component suppliers of blinds, awnings and shutters.
Get in touch with your Amazing local awning repair or awning cleaning service team wherever you are located across Australia.
Amazing Clean's professional awning cleaners provide office, hospital, hotel, resort, nursing home, and home awnings repairs & cleaning services.