Vertical Blinds
Practical, affordable and streamlined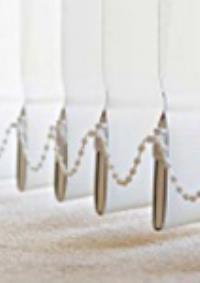 With the ability to rotate up to 180 degrees, vertical blinds are an ideal way of controlling light intensity while maintaining privacy.
Amazing Clean's range of vertical blinds can be custom-made to suit any window in your home and are perfect for large windows, sliding doors or bi-folding doors.
You can add height and dimension by choosing from a dual-faced headrail, thinner brackets and an exchangeable carrier, which is a slim design to maximise the potential and style of your vertical blinds.
To enhance the look and feel of your home, choose from Amazing Clean's very extensive range of fabric and colour options. Available in cord control & CHILD SAFE wand control in co-ordinated colours.
Amazing Clean is a certified member of the Blind Manufacturers' Association of Australia, which requires compliance with Australian Standards, Child Safety Regulations, warranties and consumer law as well as carrying appropriate insurance and abiding by a code of ethics.
Call Amazing Clean Blinds and Curtains now on 1300 138 150.