Aluminium Blinds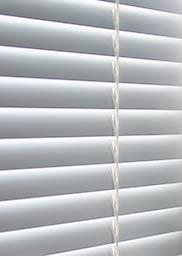 Aluminium blinds are timeless, elegant and never out of fashion.
Available in 9 colours - Basic White, Snow White, Talc, Truffle, Metalica, Raw Silk, Cotton, Brushed Aluminium and Silver - Amazing Clean's 25mm collection is extremely popular in the contemporary home.
Amazing Clean is a certified member of the Blind Manufacturers' Association of Australia, which requires compliance with Australian Standards, Child Safety Regulations, warranties and consumer law as well as carrying appropriate insurance and abiding by a code of ethics.
Call Amazing Clean Blinds and Curtains now on 1300 138 150 for a competitive quote and great service.